General Rules
Buy a 1 Month, 3 Months or 6 Months card to obtain progress and immediately become a VIP1, VIP2, or VIP3, respectively.

Progress increases by 15 per day for VIP; Progress increases by 25 per day for Senior VIP.

After VIP card expires, player will lose 120 Progress per day.

Progress = Purchased Progress + Time Progress + Recharge Progress.

Each time you spend 10 Paid Gold you'll earn 1 VIP Progress.
VIP Level and VIP Progress: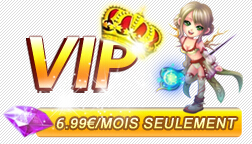 VIP Card: